New Patients at Thrive Restoration Clinic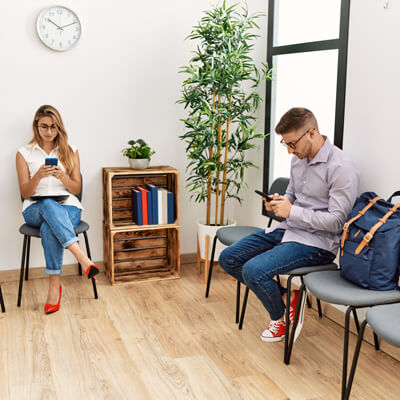 When you schedule your first appointment with Thrive Restoration Clinic, we will email you our new patient paperwork so that you may complete it online. You are welcome to complete the forms at the office, if you prefer—simply come in a few minutes early.
Please bring your identification and insurance card if you'll be using insurance. We also ask that you bring any recent medical reports or imaging you've had done, especially if you have a disc injury.
Your First Visit
When you walk into our homey, inviting office, we'll greet you by name and make you feel welcome. We'll take care of any paperwork or insurance questions, and then you'll meet with Dr. U. Plan on about 30-45 minutes for this visit.
We'll start with a consultation, which is very informal and helps Dr. U get to know you and understand what's going on with your health and what brought you to our office for care. He'll ask some questions to get a clear understanding of your goals.
The next step is a thorough examination, including orthopedic, neurological and chiropractic assessments to help locate the underlying cause of your pain or other dysfunction. If imaging is needed, Dr. U will refer you out for X-rays or MRIs. In straightforward cases, you may receive an adjustment at this visit, but this is done on a case-by-case basis, with the best interests of the patient in mind.
Your Second Visit
When you come back for your next appointment, Dr. U will go over his complete report of findings, explaining what your tests and any imaging show and letting you know how he thinks our care can benefit you. He'll answer all of your questions and lay out his recommendations for your custom care plan, including all costs. If you're ready to begin, you'll receive your chiropractic adjustment and any appropriate therapies at this visit.
Paying for Care
We offer a new patient special of $59, which includes your consultation, thorough examination and complete report of findings. We are in-network with Florida Blue and Cigna, and we accept HSAs and FSAs as well as CareCredit®. Other financing options are available.
Schedule Today
Contact us today to book an appointment.
CONTACT US
---
New Patients at Thrive Restoration Clinic | (407) 887 6568