Meet The Team at Thrive Restoration Clinic
Get to Know Us
Dr. Uche Ukeagu, Chiropractor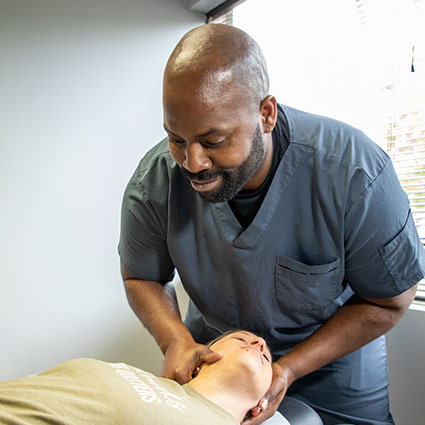 A lifelong athlete in multiple sports, Dr. Uche Ukeagu first received chiropractic care in high school. Prior to that, he had never heard of chiropractic care and had no idea what it was. His football team had a team chiropractor, and Dr. U saw him for the first time for a minor back injury. After the adjustment, his back felt better and his mobility improved, which piqued Dr. U's interest. At his appointments with the team doctor, he began asking questions and learning as much as he could about chiropractic care.
Eventually, his interest led him to enroll at Life University in Marietta, Georgia, where he earned his Doctor of Chiropractic degree in 2014. He began practicing in South Florida 2015, and then moved to Maitland in 2021.
He and his family fell in love with the Maitland and Winter Park community, and he decided to open
Thrive Restoration Clinic
in 2023, in order to better serve the residents of the area with customized chiropractic care.
Dr. U loves meeting new people, educating them and helping them create their best lives through optimal nervous system function and overall health. He's kind and down-to-earth, and he gives realistic, honest recommendations and advice that patients can understand and implement. His goal is to do what's best for every patient he sees, to help them bring out their highest potential.
We're committed to treating everyone we see the same way we would treat our own family members. Dr. U is a big guy, but his warmth and compassion put people at ease right away. Dr. U has extensive training in auto accident and sports injury rehab, neuropathy care and disc disorders.
When he's not at work, Dr. U loves spending time with his wife, 3 year old daughter and brand new twins. If he can find a moment, he also enjoys watching Tampa Bay Bucs and Miami Heat games.
---
Meet The Team at Thrive Restoration Clinic | (407) 887 6568